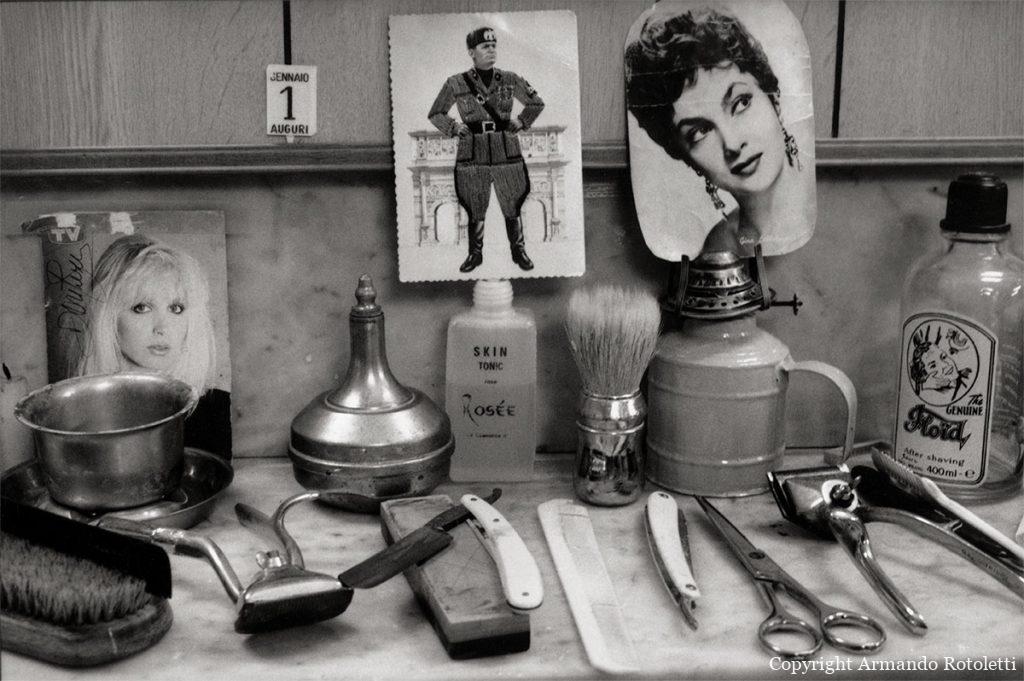 This book is the product of a research conducted thirty years ago which unearths the last barber shops still unaffected by the modernisation process altering the island, and from which I obtained a reportage that stands somewhere between photo journalism and anthropological research.
In spring 1991 I found myself in Sicily working, on behalf of a Roman magazine, on a cover story I'd suggested: the towns that had been the birthplace of Mafia. I came across a barber shop in a square in Corleone and went in to ask for some information. I can't remember if I ever got it, but I recall being struck by a revelation. Before my eyes was the most authentic setting of Sicilian sociability, where any ripple affecting village life would be carefully combed with sly nonchalance, seen without looking, told without speaking.
From this unexpected experience I had the idea of fixing time on film, catching that intangible trace of traditional Sicilian essence which I knew very well, being Sicilian myself, and longed to record before it was too late. The photo shoots, which took place in a few weeks between 1992 and 1993, followed an itinerary driven by instinct and chance, among barber shops in towns and villages, starting inland and going towards the coast all across Sicily. A choice that brought me close to realities surprisingly well-suited in terms of customs, chronicling a highly sociable world that symbolises the hub of all the communities, even more than the church, the main street or the circles. Vincenzo Consolo and Igor Man, two eminent authors from Sicily's good old days, inspired me in this project and the book refers to them.
With this reportage I wanted to communicate a simple but existing message. We mustn't simply linger in nostalgia for old customs, but rather delve into them and record our findings with the camera, so that the various aspects of folklore may provide us with interesting sources of inspiration that can be useful also nowadays.
BARBIERI DI SICILIA (BARBERS OF SICILY) is available both as a print book or a multimedia ebook
The print book, 96 pages in 30 x 30 cm format, Italian/English text, can be purchased directly through the paypal button (€30+€35 for shipping outside Italy).
The ebook for Ipad, 80 pages in Italian, features all the photos from the reportage, complemented with new passages explaining the most peculiar but less known aspects of barber shop culture. It also features some multimedia content on "barber shop music", an interactive map of the barber shops and a selected bibliography that can prompt in-depth studies. The ebook is available on iBookstore, Amazon and the main online bookshops.