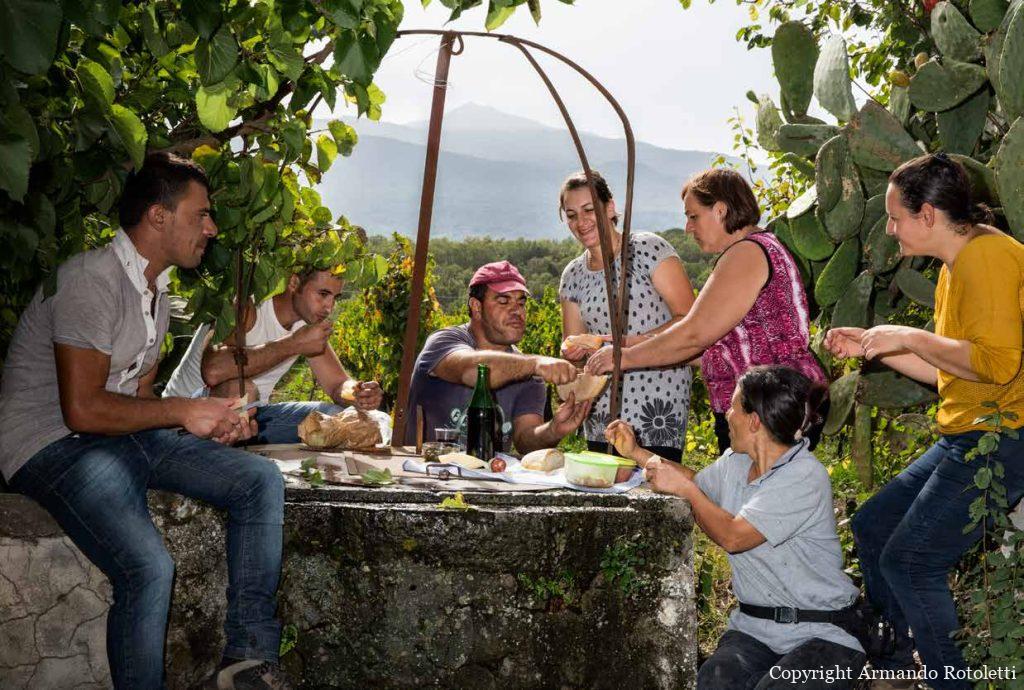 Expressing through pictures the beauty of a landscape as spectacular as the one shaped by Mt. Etna isn't difficult, because each slant is almost naturally predisposed to being immortalized. Rather less easy was finding a common thread that would describe the bind between this harsh land and its inhabitants.
What still keeps together this community at the volcano's feet, with its black soil dotted with rocks, its rather hostile climate, in the belief that it can be sweetened?
That's how I came to the idea of using the grapevine as a symbol of this land, to capture its gruelling and firm climb along the slopes of the great mountain, the geometries of its terraced plantations, the admirable rock structures surrounding it, the masterly hands looking after it and the happy faces during harvest. Picture after picture I told a tale, that of a land that deserves to be protected and valued, as this book's true protagonists, the 32 wineries here presented, have been doing.
The texts that complement the book can boast distinguished authors, and first among them is Leonardo Sciascia.
Salvo Foti, oenologist and winemaker, guides us into the world of Etna wines with the enchanted look of a child, as he pieces together, through his memories, all the stages of harvest, experienced as a collective ritual.
Andrea Franchetti, who came to Sicily from Tuscany to challenge the volcano, was one of the first winemakers to believe in the wine of Mt. Etna and to support the rebirth of its vine, the Nerello Mascalese.
Marco de Grazia thinks of the charm of eastern Sicily as "some kind of fate which we aren't allowed to resist".
Carlo Nicolosi Asmundo tells us how a wine production that used to be devoted to export lead to obtaining the DOC Etna label in 1968.
Mario Tozzi teaches us the importance of geology in the making of wine.
The tribute to Mt. Etna by the musician Roy Paci is introduced by a couple of lines by Rosa Balistreri that touch the heart.
Finally, the journalist Marisa Fumagalli gives out advice on the best places to eat and sleep.

Book features: bilingual Italian-English edition; 160 pages; 100 24×33 pictures; hardcover. It can be purchased for €35 (35€ added for shipping outside Italy) Soon available also in specialized bookshops, wine shops, etc.